SelahSketches
Digital illustrator
Commissions: Commissions closed
I open commission slots from time to time, I'll update my socials when I do!
---
My name is Selah Butterfield, I'm a 20 y/o artist, figuring out what job is right for me.I am now selling prints! Check out my INPRNT down below!If you are interested in commissioning me, check out my TOS and Types & Prices!
---
Commission info
Others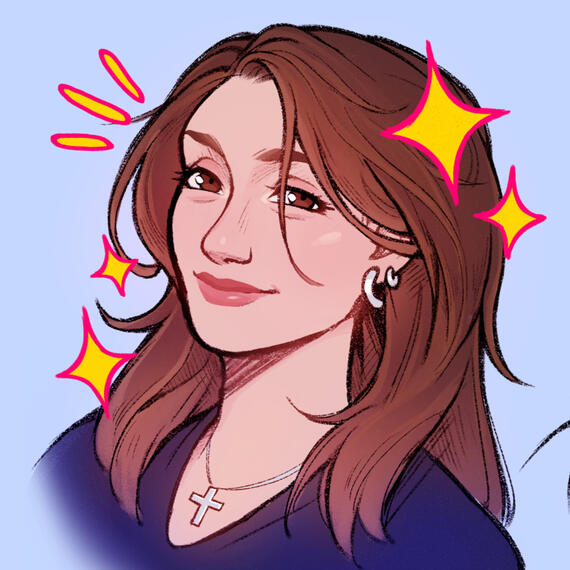 Terms Of Service
---
✦ Any type of commission that violates these terms shall be canceled. I have the right to refuse commissions I don't feel like taking.✦ Commissions are first come first serve. If you need a commission done by a deadline, check out my rush commission info!✦ Finished pieces may or may not be posted online. If the client wishes the artwork to not be shared, please specify, and it will be held confidential.✦ The artwork process time is subjective, depending on the circumstances of the artist. (i.e Emergencies, Academics, Vacations, etc.) So there is no absolute deadline/date that the client will receive the artwork, but you will eventually get it.✦ Specific deadlines should be mentioned if one needs an artwork on a specific date.✦ Once the payment is done, no refund is available.✦ Payments will be made through Paypal with USD ($) as currency.✦ Payments will be upfront, full payment. If paid half, the other half should be paid after the sketch and base colors have been finished. The painting and fully rendered artwork will be given after the full payment has been made.✦ Once I approve the commission application, I will send you a paypal invoice. I will only begin your commission after the payment is received.✦ I (usually) only take a few slots at a time, and I will only send an invoice for those certain commission slots at that time. You will still receive an email when I receive your application, so don't worry!✦ You will decide to receive the sketch, base colors, and in the process of painting as updates on the art piece later in the form. If you would like any changes, please specify as soon as possible. I won't be able to change most things farther in the commission process. (𝐏𝐋𝐄𝐀𝐒𝐄 𝐍𝐎𝐓𝐄, 𝐢𝐟 𝐲𝐨𝐮 𝐝𝐞𝐜𝐢𝐝𝐞 𝐭𝐨 𝐧𝐨𝐭 𝐡𝐚𝐯𝐞 𝐚𝐧𝐲 𝐖𝐈𝐏'𝐬 𝐚𝐬 𝐮𝐩𝐝𝐚𝐭𝐞𝐬, 𝐲𝐨𝐮 𝐰𝐨𝐧'𝐭 𝐡𝐚𝐯𝐞 𝐚𝐧𝐲 𝐨𝐩𝐩𝐨𝐫𝐭𝐮𝐧𝐢𝐭𝐢𝐞𝐬 𝐭𝐨 𝐫𝐞𝐪𝐮𝐞𝐬𝐭 𝐜𝐡𝐚𝐧𝐠𝐞𝐬.)✦ If I will be designing a character/monster/etc. for a commission, please understand if I ask for an additional charge.✦ Paying means you have agreed to these TOS.✦ NO ONE is allowed to sell my artwork as crypto art, ever.
---
Will draw: Male, Female, Chibi, backgrounds, animals, humanoids (Tieflings, Neko, etc.), certain monsters/creatures, Gore.Won't draw: Furry, NSFW, too revealing clothing.Payment: Full payment upfront (Will do half and half), USD payment through PayPal. PayPal fees may be charged. (Check above TOS.)Please specify if you would like any specific dramatic lighting/animals/scenes/pose/expression/etc. It might change the final price.My artwork is for personal use. If you would like to use my artwork for commercial use, please email me for further discussion.
Featuring me
Podcasts, features, and such!
---
Types & Prices
Backgrounds along with character(s): Starting at $50. Depends on difficulty.
If you would like more than one character, I will discount $5-15+ for each additional character, depending on the difficulty and amount of characters in the commission.
I may increase/decrease the final price of any commission if I see fit.
---
Rush Commissions
Add +125% to the final cost, per commission, depending on what the commissioner is ordering. Message me to figure out the price!I put your commission(s) at the top of my to-do list, meaning it's my top priority. If you need a commission before a certain date, this would be for you.
Note: Please don't ask me to do a detailed piece a couple of days before the due date, I will need more days/weeks/months for those types of commissions, depending on detail and complexity.
---
Headshot: $180+
Bust: $200+
Waist up: $250+
Half body: $350+
Knees up: $430+
Fullbody: $500+
Chibi: $50+
Fullbody only. Clean lineart and coloring.
Character Sheets: $200+
Depends on detail and difficulty. Clean lineart and coloring.
Lineart-style Portrait: $90+
Depends on detail and difficulty. Clean lineart and coloring.
Background/landscape: $600+
May increase the final price if it is more difficult.
Detailed Backgrounds: $1,000+
May increase the final price if it is more difficult.
Simple Icons: $10
Something simple and fun!
Other
If you'd like me to draw something not on the list, please Email me for further discussion!